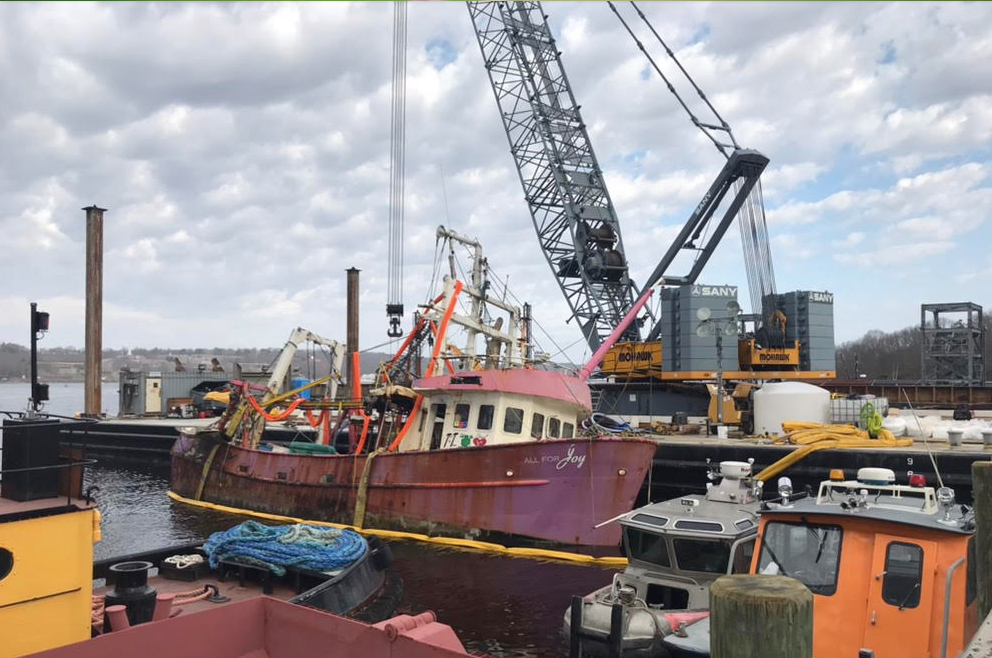 Fishing vessel "All for Joy", with yellow spill boom in place, is secured to a barge at Mohawk Northeast, Inc., Thames River, New London/Groton CT. Joe & Tracy Brock Photo
It took 20 days, but the capsized fishing vessel "All for Joy" was finally removed from the mouth of Hay Harbor at 6:05 p.m. Mar. 30.
The commercial fishing vessel capsized south of the Race March 10 and eventually came to rest at the mouth of Hay Harbor, leaking fuel that reached to the shore of Fishers Island. Two fishermen were rescued unharmed.
By 6:30 a.m. March 12, the smell of diesel fuel was "overpowering" on the north side of the Island, particularly at North Hill west past Hay Harbor. Heavy winds and seas prevented divers from safely capping the leaking fuel at that time, because there were too many hazardous pieces hanging and floating around the capsized vessel.
According to the US Coast Guard, all of the tanks on the vessel had been capped by Mar. 13. The current, tide and winds took the fuel into Hay Harbor and along Stony Beach. A crew from Clean Harbors walked the shoreline Mar. 14 to mop up any remaining oil with absorbent pads. They also deployed absorbent booms in those areas where oil was most prevalent. (Reporting by Jane T. Ahrens.)
https://ficonservancy.org/wp-content/uploads/2019/04/Wreck-All-for-Joy-9_10am-31MAR19-Mohawk-Brock-992x658.jpg
658
992
Betty Ann Rubinow
https://ficonservancy.org/wp-content/uploads/2017/07/fi-Conservancy-logo350x100.jpg
Betty Ann Rubinow
2019-04-01 17:56:50
2019-04-01 18:23:46
Capsized Vessel Finally Removed from Mouth of Hay Harbor