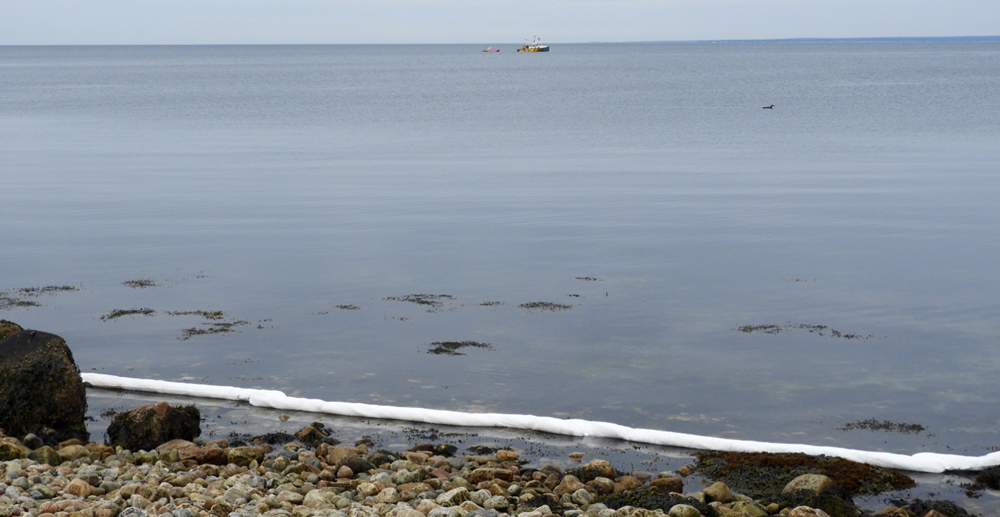 Clean Harbors installed booms Mar. 14 to soak up any remaining oil from capsized vessel. Most affected shoreline areas were quite clean, however, compared to less than 24 hours earlier. The sun helped to burn off diesel oil sheen. (Jane T. Ahrens Photo)
The commercial fishing vessel, All for Joy, capsized south of the Race March 10 and eventually came to rest at the mouth of Hay Harbor, leaking fuel that reached to the shore of Fishers Island. Two fishermen were rescued unharmed.
By 6:30 a.m. March 12, the smell of diesel fuel was "overpowering" on the north side of the Island, particularly at North Hill west past Hay Harbor. Heavy winds and seas prevented divers from safely capping the leaking fuel at that time, because there were too many hazardous pieces hanging and floating around the capsized vessel.
According to the US Coast Guard, all of the tanks on the vessel had been capped by Mar. 13. The current, tide and winds took the fuel into Hay Harbor and along Stony Beach. A crew from Clean Harbors walked the shoreline Mar. 14 to mop up any remaining oil with absorbent pads. They also deployed absorbent booms in those areas where oil was most prevalent.
By Mar. 13, the oil was "disappearing nicely from the sun and tidal action." On Mar. 15, FIConservancy Naturalist Justine Kibbe monitored the full circumference of Stony Beach and said she was happy to see the usual coyote tracks, herring gulls and great black-backed gulls diving for spawning sandworms. She was particularly happy to see a killdeer "chattering away, hopefully scouting for nest…" (Reporting and photos by Jane T. Ahrens.)
https://ficonservancy.org/wp-content/uploads/2019/03/All-For-Joy-divers-in-13MAR19-JTAhrens-9229-1000x500.jpg
500
1000
Betty Ann Rubinow
https://ficonservancy.org/wp-content/uploads/2017/07/fi-Conservancy-logo350x100.jpg
Betty Ann Rubinow
2019-03-15 13:19:27
2019-03-15 14:34:40
Diesel Fuel Reaches FI Shore