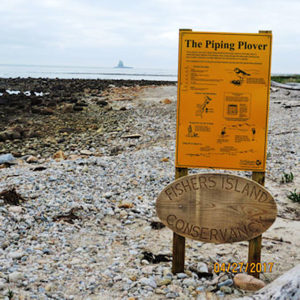 – Field Note by Justine Kibbe April 30, 2017.
It was always a sweet spot of mine-this Sanctuary of Sands as I call it. The same tidal pools are here, where as a kid, I tipped barnacled rocks years ago with my neighbors. We spent hours searching for crabs to fill our buckets-bait for catching blackfish. It was also the best viewing for the Friday landings of Jock Whitney's Jet. Oh, it even could be I recollect sneaking a kiss or three here during my early teenage years; we "west- enders" of summer and all those bonfire nights.
But I also remember Fishers Island's premier Naturalist Ed Horning – seeing him here with his binoculars spying various species of sandpipers from the dune grasses. It was probably a sweet spot for him too; actually Southold has documented notes of his, that it really was his favorite for observing shorebirds feeding within salted kelp and eelgrass berms.
Now decades later, the same three tiny coves parallel to the Elizabeth Field Runway, with sands that have shifted and sifted these past years after Hurricane Sandy have become the spot where at long last my ship has come in- Stewardship.
If I were to name this ship it would be christened Atukan- Akun or "We Are One" honoring my Unungan tribe of the Bering Sea. It's an Island environment, the Aleuts taught me, that can uniquely exemplify this universal "gift" of knowing AND seeing we truly are ONE. An opportunity to live and breathe the Natural world of sea and sand, the rhythm of sun and moon, wind and wave; where its wildlife and habitat naturally brings out the unity in community-or tribe.
Atukan- Akun, embracing the integral qualities of tribe is an even sweeter spot not unlike a very unique classroom; placed upon the hearts of students here on Fishers Island. We are together Leaders and followers, Teachers and learners, all striving to glean the local traditional knowledge of our native land and preserve it.
And so with sails set and trimmed this Spring, signs have been placed throughout this Sanctuary to help steer Island stewards as we stand watch over our precious cargo-treading lightly, respectfully, and navigating this voyage with a certain hopefulness; taking the helm towards "future history" of our Island.
https://ficonservancy.org/wp-content/uploads/2018/04/fn-2017-04-30-sanctuary-sands.jpg
640
640
fic0n5erv
https://ficonservancy.org/wp-content/uploads/2017/07/fi-Conservancy-logo350x100.jpg
fic0n5erv
2017-04-30 13:56:29
2018-04-23 16:52:56
When My Stewardship Comes In