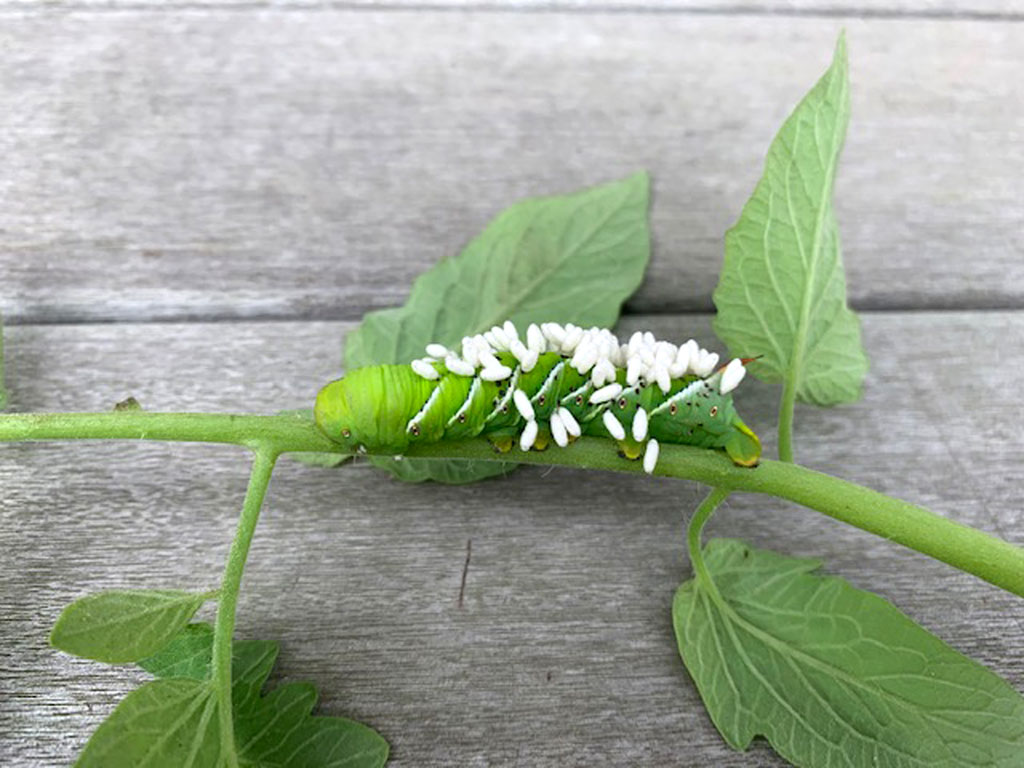 Tobacco hornworm caterpillar coated with parasitic wasp cocoons. Jane Crary Photo
Masters of camouflage, the tobacco hornworm caterpillar is a garden pest that can overnight devour entire leaves of their favored plants, including tomatoes, eggplant, peppers and tobacco.
The clusters of white silky pods covering the caterpillar are cocoons of tiny parasitic wasps. (Not the kind that bite.) The female wasp lays her eggs under the skin of the tobacco hornworm. As the eggs hatch, the larvae feed on the hornworm's insides, eating their way out and spinning the cocoons.
When adult wasps emerge from the cocoons, the caterpillar dies. The above caterpillar will likely die in a week, according to entomologist Adam Mitchell, Ph.D.
"The parasitic moth is fairly common with these caterpillars, which used to feed exclusively on nightshade or tobacco, and the toxins in those plants helped the caterpillars reduce the likelihood of parasitism," Dr. Mitchell said. "However, we've done a good job at removing plant defenses in tomatoes so we can improve fruit yield, and this has led to the caterpillars having no real defense against the wasps when they lay their eggs."
Entomologists recommend leaving the cocooned caterpillar alone, because parasitic wasps control other garden pests including beetles, aphids, squash bugs, stink bugs and tent caterpillars.
The tobacco hornworm is also a "model organism" commonly used in neurobiology in a variety of biomedical and biological experiments, due to its easily accessible nervous system and short life cycle.
https://ficonservancy.org/wp-content/uploads/2020/08/Tobacco-hornworm-caterpilar-Jane-Crary.crop_.jpg
461
1024
Betty Ann Rubinow
https://ficonservancy.org/wp-content/uploads/2017/07/fi-Conservancy-logo350x100.jpg
Betty Ann Rubinow
2020-08-07 16:49:54
2020-08-07 16:49:54
Pest and Pest Control Wrapped in One Package