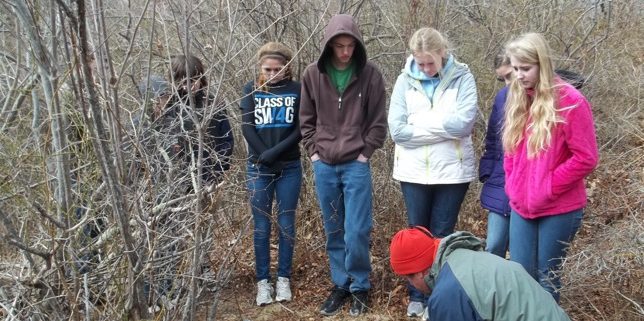 By Guest Naturalist Mike Bottini
In late March, 2013, three colleagues and I arrived on Fishers Island to survey for river otter (Lontra canadensis) – thanks to a grant from the Fishers Island Conservancy. You may wonder, as many have asked, "Why look for river otters on an island that has no rivers?" As is the case with many common names, this one does not accurately reflect the habitat frequented by this interesting creature. River otters actually spend most of their time on land, but when they are hungry and looking for a meal, they will dive into any waterbody – river, swamp, pond, tidal creek or bay – that has their favorite prey: fish, crabs and crayfish.
You may also wonder: why the interest in documenting the presence of river otters? Positioned high on the aquatic food chain, and being year-round inhabitants of fairly limited areas (unlike migratory species like the osprey), river otters are valuable indicators of the health of the aquatic systems in which they reside.
https://ficonservancy.org/wp-content/uploads/2013/04/FishersStudents.jpeg
483
644
fic0n5erv
https://ficonservancy.org/wp-content/uploads/2017/07/fi-Conservancy-logo350x100.jpg
fic0n5erv
2013-04-07 18:45:17
2018-08-03 14:34:13
River Otter Survey of Fishers Island